Chamomile Oil
Home » Products » Natural Essential Oil » Chamomile Oil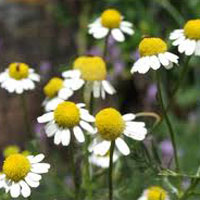 Properties : lowers fever, anti- spasmodic,analgesic,against anemia, tonic,antiseptic.
Main Components : Chamazulene, Farnesene, Bisabol-oxide,alpha bisabolol,Camphor.

Camomile can be used in Massage for muscular pain, and for inflamed joints in such conditions as arthritis. It is very effective in treating sprains, inflamed tendons, and swollen painful joints in bursitis (Housemaid's Knee, for example), always remembering that injuries and swellings must not be massaged, but a cold compress applied. Camomile is valuable for many skin problems, especially where the skin is very sensitive, red or dry. Its most important application is in the treatment of allergies, such as eczema, urticaria and all dry, flaky and itchy conditions, or those where patches of redness appear. It is used directly on the skin in aromatic waters, lotions and creams, but baths may be the simplest approach if a very large area of the body is affected. Plenty of Camomile tea should be taken as well. Care must be taken to discover the cause of the rash, whether this is a physical irritant, emotional stress or very often a combination of the two. Otherwise, there is a danger that symptoms are merely being suppressed. Camomile is very calming on the mental/emotional level, and since many allergic reactions arise when the person concerned is under stress, it is far more valuable in treatment than any preparation which attempt to deal with the problem only as a skin eruption. It is important, though, to remember that there may be a 'healing crisis' in which the skin appears to get worse before it shows any improvement. This phenomenon is common to many forms of natural healing.

Packaging : We can supply essential Oils in small bottles of different dimensions like, 2.5ml, 5ml, 10ml, 50ml, 100ml, etc. Also we can supply the essential oils in bulk packaging like, Aluminium Drums, GI Drums, Plastics Drums of various dimensions 25/50/100 litres drums.