Cardamom Oil
Home » Products » Natural Essential Oil » Cardamom Oil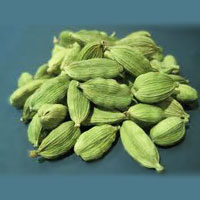 Cardamom oil is commonly used in aromatherapy as well as Ayurveda, primarily as a digestive tonic. Cardamom has been known to kill bacteria in the digestive system and seems to calm nausea.

Main Components : Terpenyl acetate, cineole,lanalol,limonene.
Therapeutic grade Cardamom essential oil (oil of elettaria cardamomum) is best used as a digestive aid, - a natural remedy for upset stomach. Cardamom oil is well known for constipation relief, and reduces water retention, relieves stomach cramps and flatulence. Cardamom oil works wonders for women with IBS, chronic constipation and bloating (water retention). Cardamom essential oil is also well known as a natural remedy for sinus headaches, mental fatigue, catarrh & physical exhaustion.

Blends with : Bergamot,black pepper,cinnamon,ginger, lemongrass,neroli,patchouli,sandalwood,etc

Packaging : We can supply essential Oils in small bottles of different dimensions like, 2.5ml, 5ml, 10ml, 50ml, 100ml, etc. Also we can supply the essential oils in bulk packaging like, Aluminium Drums, GI Drums, Plastics Drums of various dimensions 25/50/100 litres drums.