Basil Oil
Home » Products » Natural Essential Oil » Basil Oil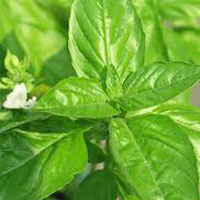 Latin Name : Ocimum sanctum (ocimum gratissimum-Eugenol type)
Part Use : Flowers and leaves
Origin : India

Totally unlike the herbal basil oils normally seen, India's Holy Basil has a rich, spicy aroma because it is high in Eugenol, the phytochemical that gives cloves and our cinnamon leaf oil their distinctive notes. Because of its chemical content, this Basil may be a strong irritant and should be used in very low dilutions. Medicinal Action and Uses---Aromatic and carminative. Though generally employed in cooking as a flavouring, Basil has been occasionally used for mild nervous disorders and for the alleviation of wandering rheumatic pains- the dried leaves, in the form of snuff, are said to be a cure for nervous headaches. An infusion of the green herb in boiling water is good for all obstructions of the internal organs, arrests vomiting and allays nausea. The seeds have been reckoned efficacious against the poison of serpents, both taken internally and laid upon the wound. They are also said to cure warts. In common with other labiates, Basil, both the wild and the sweet, furnishes an aromatic, volatile, camphoraceous oil, and on this account is much employed in France for flavouring soups, especially turtle soup. They also use it in ragoûts and sauces. The leafy tops are a great improvement to salads and cups.
Although it is now comparatively little used in England for culinary purposes, this herb was one of our favourite pot-herbs in older days, and gave the distinctive flavour that once made Fetter Lane sausages famous.

Packaging :
We can supply essential Oils in small bottles of different dimensions like, 2.5ml, 5ml, 10ml, 50ml, 100ml, etc. Also we can supply the essential oils in bulk packaging like, Aluminium Drums, GI Drums, Plastics Drums of various dimensions 25/50/100 litres drums.