Aniseed Oil
Home » Products » Natural Essential Oil » Aniseed Oil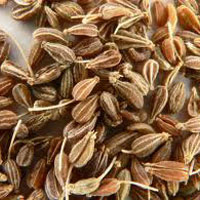 Properties : Appetite stimulate, Sedative,Anti-spasmodic,Carmiinative,Stimulates neuron-muscular & cardiovascular systerm.

Aniseed oil is a very potent and the anethole contained in it can cause dermatitis in some individuals. It is best avoided in problem skin conditions. In large doses it can also slow down the circulation and can cause cerebral congestion.

Aniseed oil can be useful in the treatment of muscular aches and pains, rheumatism, bronchitis, whooping cough, colic, cramp, flatulence, indigestion, catarrh and hangovers. Aniseed oil is not only helpful for its effect on the digestive system, it is also a general tonic to the circulatory system and the respiratory tract. It helps to calm the nerves of tense and anxiety ridden people. It also calms menstrual pains and eases nauseous migraines, while stimulating the lungs to expel phlegm.

Anise seeds can be chewed as an herbal remedy to relieve bad breath. The seeds can be crushed and steeped in hot water to make an herbal tea that can relieve coughs. The essential oils of anise have expectorant properties. Anise has antimicrobial properties and its pleasant flavor can be used to mask other less pleasant medications. Anise tea is also felt to be good for relieving indigestion and flatulence. It helps prevent fermentation in the gastric tract.

Main Components : Anethol,Methylchavicol,anise acid,

Packaging : We can supply essential Oils in small bottles of different dimensions like, 2.5ml, 5ml, 10ml, 50ml, 100ml, etc. Also we can supply the essential oils in bulk packaging like, Aluminium Drums, GI Drums, Plastics Drums of various dimensions 25/50/100 litres drums.